About
The Barrington Hills Country Club community was formed when a group of visionaries and golf aficionados came together in 1921 to build a "Club in the Country." Located 40 miles outside of Chicago, BHCC was founded by a group of 'gentlemen farmers' with the intent of creating a place that promoted friendships, family, and a sense of tight-knit community.
Today Barrington Hills Country Club enjoys a distinct reputation of matchless excellence in Barrington, home to a Membership comprised of influential business and community leaders. One hundred years later, the Club maintains its core original values which include a 225 Associate Member maximum, no debt, no tee times, and a requirement for Members to reside in the Barrington community.
BHCC hosts a scenic and challenging traditional golf course designed by Golden Age architect George O'Neil, restored in recent years by Tom Doak. The Member rounds average 10,000 rounds of golf annually. The Club also maintains top of the line clay tennis courts, pool facilities, and the unique features of platform tennis and skeet shooting along with other summer and winter seasonal activities. Considered among the best dining in the area, the Club offers first class culinary options to Membership in both fine and casual dining settings. Family has always been at the heart of the Barrington Hills Country Club experience, shown by a myriad of special focused programs for Junior family members throughout the year.
The current clubhouse was designed by Robert Work, an associate of David Adler, after the original clubhouse was destroyed by a fire in 1930. Today, the upper level of the clubhouse is primarily used for events and office space; the lower level includes a Ladies Locker Room and a Men's Locker Room with a private dining area. Additional dining spaces include the "Pub" with seating for 26, the "21 Lounge" with seating for 18, the "Grille" with seating for 60, and an outdoor patio with seating for 80. The back layout of the Clubhouse was designed so that all the different amenities overlap, integrating the Membership, and further fostering the community atmosphere desired by the founding Members in 1921.
History
Celebrating 100-years in 2021, Barrington Hills Country Club has a rich history in the Barrington community. It begins with industry titan Harry Stilson Hart, 220 acres of open land a mile west of Barrington, and a quest to gather like-minded sportsmen to bring the call of 'fore' to his summer retreat outside of Chicago. The storied history of Barrington Hills Country Club has been well documented in A Club in the Country "The Story of Barrington Hills Country Club" by Patty Dowd Schmitz. Copies of this highly visualized history of BHCC are available through the clubhouse.

Read More for a timeline of major milestones for Barrington Hills Country Club throughout the years.


Read More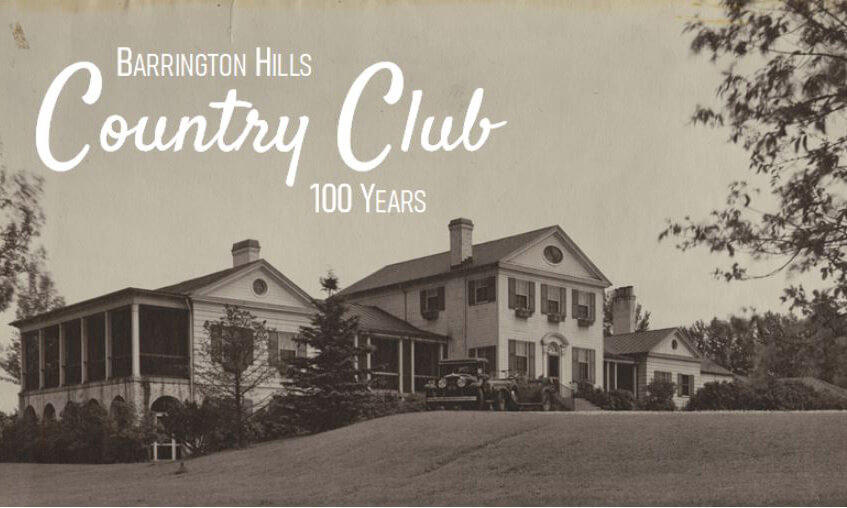 Guest Information
Visiting the club?
We look forward to hosting you.
Learn more about the guest policies here at Barrington Hills Country Club.
Read More